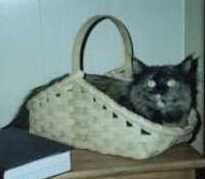 Bad cat! Gayle's cat,
making herself at home in a hearth basket!
My Guarantee
A well made basket should give you years of service, if properly cared for, and used according to its intended purpose. Most of my baskets are made to order. I guarantee the workmanship, and that I have made the basket as closely to your wishes as I could.
Basket Care Tips
Baskets are made from natural materials, and need a certain amount of care to maintain their looks and usefulness.
....Although they are sturdy, don't overload them.
....Baskets need a certain amount of moisture, but don't let them stay in a damp area.
....Mist very lightly once a year or so.
....Keep out of direct sunlight to prevent fading.
....Keep them free of dust and dirt.
....Protect the basket from grease and food by lining with a napkin.