Woven with pride in Tennessee TM
Gathering and Carrying Baskets
Before plastic bags and modern packaging, baskets were used around the farm and household to gather and carry a multitude of things. Each has a shape and structure suited to its purpose.
Can't decide what someone would want? Get a Gift Certificate instead and let them decide! Gift Certificates are good for baskets, classes, kits, and supplies.

Prices include shipping so there is
no surprise when you go to check out!

I have just been informed that my online credit card processor is no longer going to be in business. While I arrange for a new processor, please order via mail - print an order form. call me at 423-377-5555 for more information.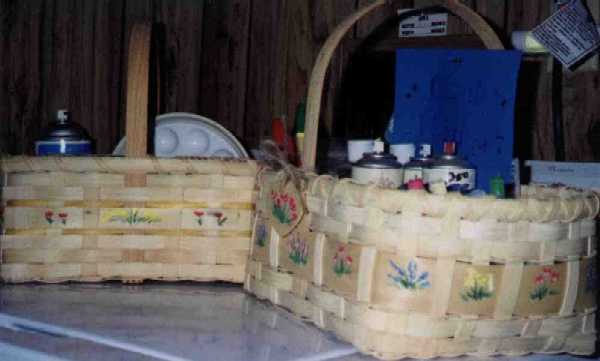 Market Basket Uses

These two market baskets sit on a shelf in my utility room, stuffed with all those little tubes of paints, drawing pencils, stencils, and other junk associated with my crafts!

Deep market hand painted with flowers Item # 5010 $42.00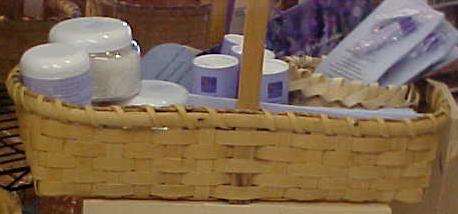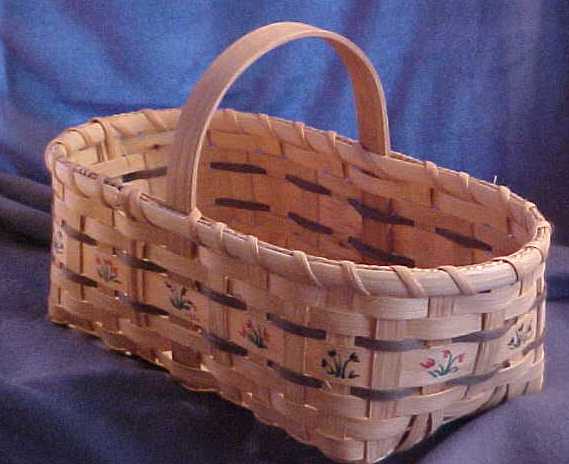 Market Baskets

Market baskets, in a variety of sizes and depths, were used for such tasks as bringing home items from the marketplace.

Left: Shallow market Item # 5001 $42.00 br> Right: Deep market, either hand painted with choice of painted flowers or accent color Item # 5010 $42.00
Jeremiah Baskets

The Jeremiah basket has a unique shape.
In the large size, this sturdy basket is great for small picnics, or carrying books back and forth to the library!

Left: Medium Jeremiah Basket Item # 7201 $48.00
Right: Small Jeremiah Basket Item # 7202 $40.00
not Shown: Large Jeremiah Basket Item # 7200 $55.00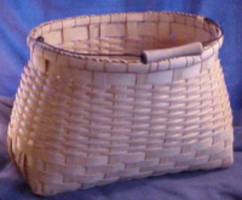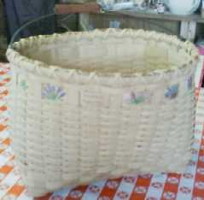 Car Tote

A taller, narrower version of the market basket, these fit beautifully behind the front seat for hauling any of the stuff you need!

Optional floral handpainted flower on the 1 inch stenciling strip at top.

Car tote with swing handle Item # 3602 $50.00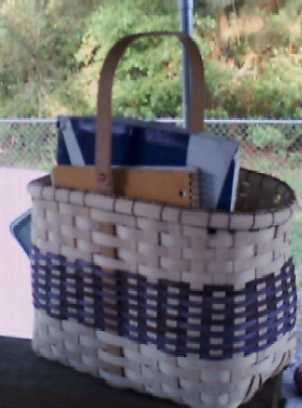 Tall Tote Basket

This large basket is designed to carry all those files and paperwork. With a swing handle, this tall, narrow basket is sturdy and easy to carry.

Each: Item # 3610 $52.00
Katie Avram
SassyKat Baskets
PO Box 316
Speedwell, TN
(423) 377-5555

I always have some baskets on hand. A basket ordered from stock can be shipped immediately. Special order baskets are made when you order, so expect to wait approximately 2 weeks for delivery, unless otherwise noted.

Call me at 423-377-5555 for more information. To order via mail - print an order form

Email sassykatbaskets@yahoo.com

Copyright 2000-2012 Katie Avram. All rights reserved. Last update November 27, 2012

"SassyKat Baskets - hand crafted, traditional, Appalachian baskets" and "Woven with pride in Tennessee" are trademarks of SassyKat Baskets.