Woven with pride in Tennessee TM
Links to other sites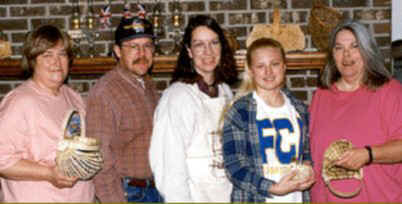 Class in Rugby, TN, with (left to right) fellow student and VBG member Carol Antrim, Instructors Scott Gilbert and Beth Hester, fellow student and VBG member Kelly, and me.
Can't decide what someone would want? Get a Gift Certificate instead and let them decide! Gift Certificates are good for baskets, classes, kits, and supplies.

Prices include shipping so there is
no surprise when you go to check out!

I have just been informed that my online credit card processor is no longer going to be in business. While I arrange for a new processor, please order via mail - print an order form. call me at 423-377-5555 for more information.
Several of my friends and associates have websites that you may find interesting and useful.
---
Basketmaker's Guilds and other links
Artisan Guilds go back to the medieval times, when a young person would be apprenticed to a master craftsman to learn the tools and techniques of the chosen trade. Guilds for carpentry, ironworking, jewellers, and even plumbing still exist.

The Tennessee Basketry Association (TBA) is a very diverse and active guild with several local guilds, and an excellent annual convention

The North Carolina Basketmaker's Association (NCBA) is one of the largest and most active guilds in the US. Their annual convention is one of the premier events of the basketmaking community.

The National Basketry Organization. Their website is the place to go to keep up to date on the organizational steps they're taking. They have a link to join, too! Other basketmakers

The Virtual Basketmakers Guild (VBG) of which I was a founding member. Although the guild is defunct now, Carol keeps the pages online but doesn't update them any longer. Many of the basketmakers have moved on to other things.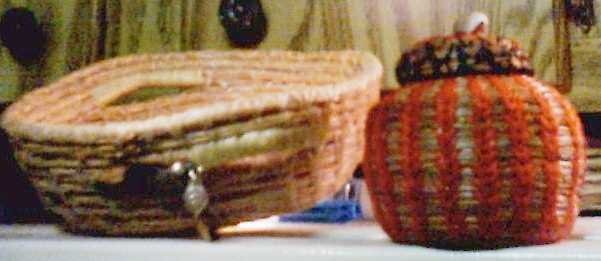 Pine needle baskets by members of VBG: tray by Nora Voss (left) and pine needle ginger jar by Carol Antrim (right), showing their very different styles! Both were gifts from the artists to me.
Basketmakers.com Excellent source of information about all sorts of basketry related topics.
GH Productions Several years ago, I went to white oak basketmaking workshops taught by Scott and Beth in Rugby, TN. They have terrific white oak splints and handles.
Restoration Products - in Indiana, near Carol. It would be fun to visit both of them at once!
---
Other Crafts Sites with reciprocal links or that feature my work

Katie Avram
SassyKat Baskets
PO Box 316
Speedwell, TN
(423) 377-5555

I always have some baskets on hand. A basket ordered from stock can be shipped immediately. Special order baskets are made when you order, so expect to wait approximately 2 weeks for delivery, unless otherwise noted.

Call me at 423-377-5555 for more information. To order via mail - print an order form

Email sassykatbaskets@yahoo.com

Copyright 2000-2012 Katie Avram. All rights reserved. Last update April 14, 2013

"SassyKat Baskets - hand crafted, traditional, Appalachian baskets" and "Woven with pride in Tennessee" are trademarks of SassyKat Baskets.